Argentinian artist Demian Stendelis' illustrations are unmistakably contemporary. Not only in medium, but also in subject. His application of ancient symbology and modalities strives to remind us of the balance between human existence and the natural world. A self-proclaimed alchemist, he uses familiar and evocative imagery to depict this unity.
What is the illustrative process for this series – from initial sketching to final product?
The process for this series, as in most of my digital works, begins with an exploration of images and concepts. I search for triggers that resonate with my content and create a preliminary sketch to move the wheel. I determine a color palette to set the stage, and little by little, develop the story.
In many cases, the sketches are analog – pencil, inks, and paper – while others are digital from conception. At first, I resisted [digital medium] as historically I have always worked with matter, with the tangible. However, incorporating digital tools opened a world of possibilities.
Centrality, the animal figure is linked to the sacred and to the power of the human form. I construct the images from color, symbols, and figures. And sometimes in the process, I perform something which Paul Gauguin described as "putting everything in and then taking it away," and that action leaves that which is essential.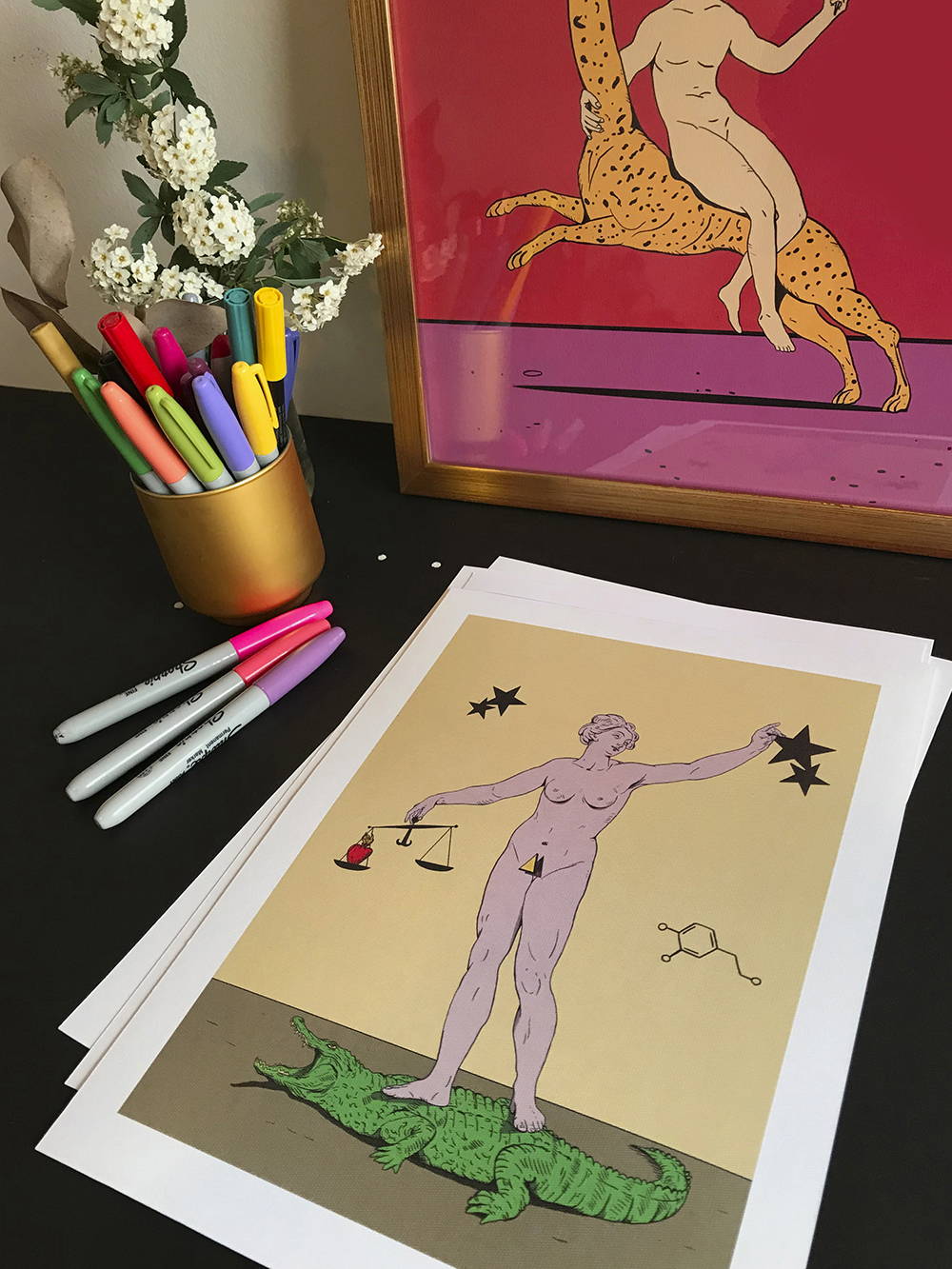 Please describe some of the esoteric themes in your work. How are such themes tied to contemporary states of being?
I work with familiar elements and figures and link them to meaning. An interesting thing happens when one removes a symbol from its "natural" state. For example, it can be a whale flying in the middle of the desert. As if two parallel worlds had collided with each other. From that intersection, a new one is born – a kind of psychic dream or reality apart.
I feel like we live in a time where history has polarized and separated practically everything – matter from spirit, animal from nature. What I want to represent is that search – the restlessness of reconnecting with that source, with that consciousness, where the greatest challenge lies in knowing that everything lives in unity, that nothing endures or transcends in isolation.
"I perform something which Paul Gauguin described as "putting everything in and then taking it away," and that action leaves that which is essential."
Did you study art in an institutional setting or are you self-taught?
My training is constituted by both roads. I studied anatomical drawing and living models at the Escuela Superior de Bellas Artes of Buenos Aires, where I also delved into engraving techniques and sculpture. I also participated in seminars and work clinics through scholarships and private workshops by great artists.
Those same scholarships introduced me to new spaces and galleries, which allowed me, in addition to continuing to develop my work, connect with other artists and art professionals and expand my practice.
I took my first drawing and painting workshop was when I was eight years old, and from there, I continued along that path between creating from my own practice and studying in a more traditional way.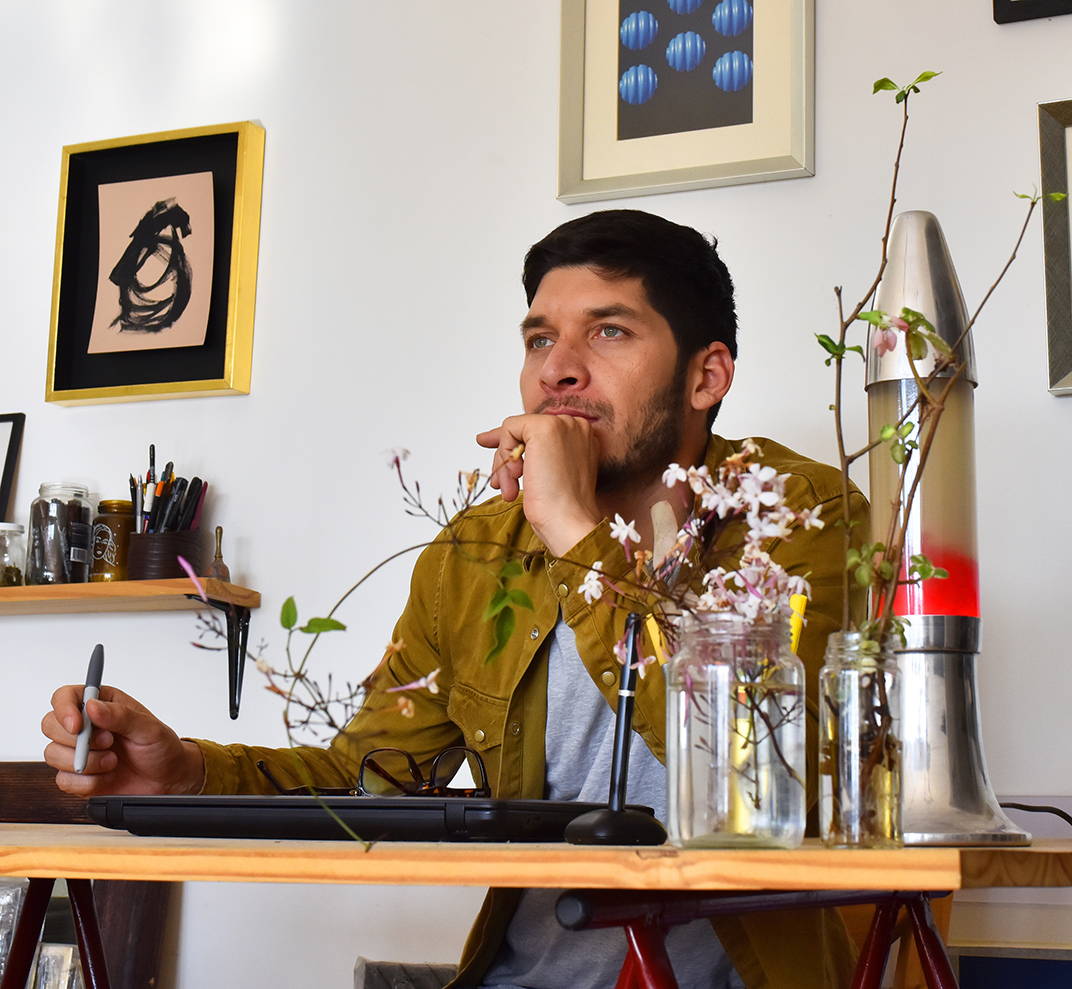 How has your home of Buenos Aires influenced this current series?
I try to generate content that is universal, that can resonate in different places or cultures. However, before starting this series, I moved from the heart of the city to the outskirts of Buenos Aires, where I reside today. Here the environment is natural, I live near the river, and this has probably impacted certain themes in my works.
Do you belong to an artistic community? Please describe.
I develop and produce my works independently. The exchange of ideas and processes is very present with my fellow illustrators and visual artists, in fact generating collective proposals in galleries and cultural spaces of Buenos Aires. My last collaborative work was to illustrate the sculptural project of the Argentine artist Alexis Minkiewicz in the framework of the South Biennial 2021.
Shop Demian Stendelis' Prints