Brooklyn-based, Moscow-born artist Nikolina Kovalenko's paintings address human's complex relationship with nature. In depicting the beauty of the world's most fragile natural elements, her large-scale paintings draw attention to the actions that threaten their very existence.
You are from Moscow, and you studied art there. How was that education unique, and how does it inform your practice?
Both my parents and my grandfather are artists. Ever since I was a little kid, the happiest times were playing with their art materials and looking through art history books. I never really considered doing anything else professionally. I feel very lucky to be able to focus on what I love.
The education I received in Russia was only focusing on the question "how?" and never "what?" or "why?" They taught us the technique, but not to think outside of the box or how to find your own visual language and theme. I'm very grateful for the ability to paint anything I want to without feeling limited by technique, but when I came to New York, I realized that I have no idea what was happening in the contemporary art scene, as art schools in Russia focus on art history up to the beginning of 20th century. In New York, I went to every single gallery opening and exhibition, trying to understand the culture and aesthetics of what comprises the art world of today – learning, admiring, absorbing.
Back then, I wished I studied art in the US, but now looking back, I understand that my background makes my art unique. They taught us to see beauty in every detail, no matter how mundane, and I think this is the most precious gift for an artist. Many art professionals here would argue that art doesn't owe it to anyone to be beautiful, it just has to be honest, but I believe that beauty is in the eye of the beholder.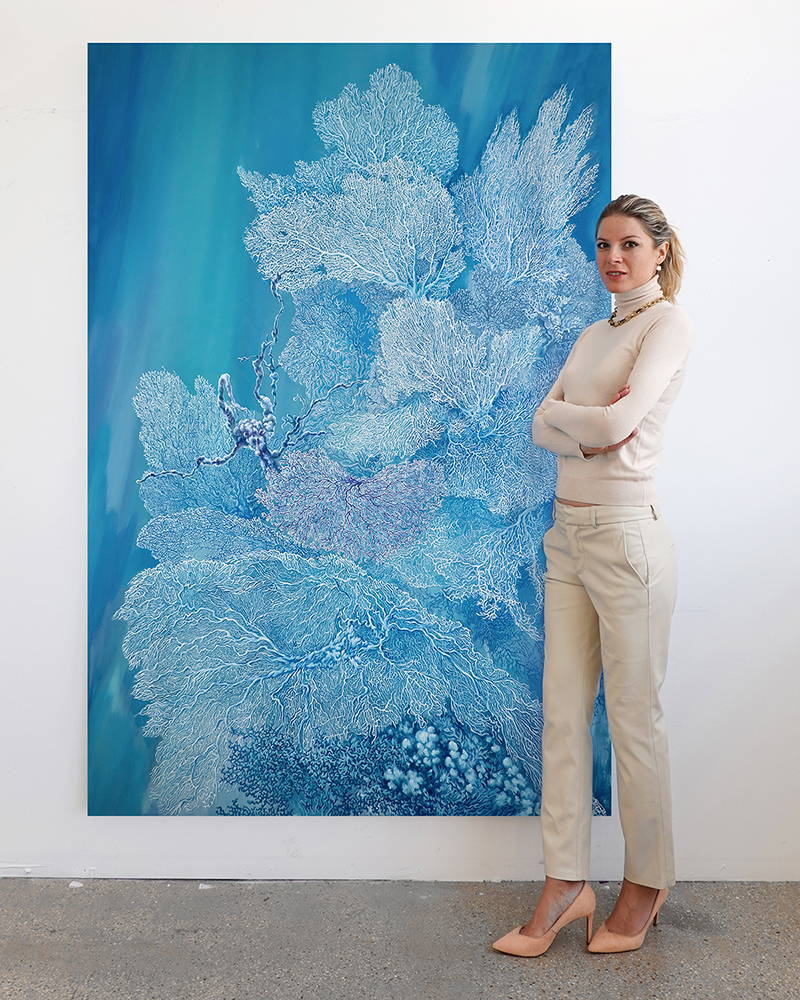 You create series around different environmental issues. Is location travel essential to this, or do you feel connected to these issues regardless of where you are?
The environmental issues don't go away just because we don't notice their consequences in our everyday life, so I feel connected to this topic even from my studio in Brooklyn. But traveling to beautiful, fragile ecosystems brings a deeper connection with nature. Being immersed in rainforests, mountains, and oceans nourishes and inspires me. Traveling is an essential part of my life, although I try to take few flights and travel slower and mostly by bus or train to reduce my carbon footprint.
New visual experiences are essential. I process them even on a subconscious level as they brew together, creating a new concoction of feelings, textures, sound, smells, and colors, adding to my artistic vocabulary. For example, I only use my own photographs I took while diving, even though many professional underwater photographers would do a better job. A photo is just a shadow of a lived experience. The elation I feel gliding above the most spectacular coral gardens, noticing the tiniest petals responding to the current, moving slowly like in a dream, forgetting about time ... looking at a photo I took evokes all these memories, and I relive the moments once more while painting.
However, I don't feel the need to relocate and paint on an island where I could go diving every day. I absorb all these impressions and then need time to digest them. I love the creative atmosphere of New York and don't think I would be able to be this driven and productive anywhere else. I need museums, galleries, and art fairs to admire what other artists are creating. I need the artistic community to exchange ideas and to feel that I'm not the only crazy one. Just being here recharges me.
"A photo is just a shadow of a lived experience"
Do you create spontaneously or regimentally?
I paint long hours – ten to twelve hours a day. I feel that dedication and consistency is crucial to creating good work. Like Picasso said, "Inspiration exists, but it has to find you working." My art improved tremendously since I started going to the studio at 9 am every day, rain or sunshine. Yet my time in the studio is far from being a routine – every day is an incredible journey of self-discovery, new ways to paint, new textures, color combinations, angles, and composition.
The stereotype of an artist's working week looks like this – 99% of time-waiting for inspiration while indulging in self-destructive activities and abusing the poison of your choice. 1% of time the inspiration finally shows up (preferably in the middle of the night), and you paint ten canvases in two hours because you're so inspired, and some "phantom of painting" is moving your brush for you. The next morning you come back to being a mess, and the cycle repeats – Let me assure you, this is not how it works. I actually don't know one artist who lives this lifestyle, this is just not realistic and sustainable.
We spend long hours working in our studios and are actually very organized because (as many people had a chance to notice in the past year) organizing your own schedule and being productive when no one is watching requires a lot of stamina.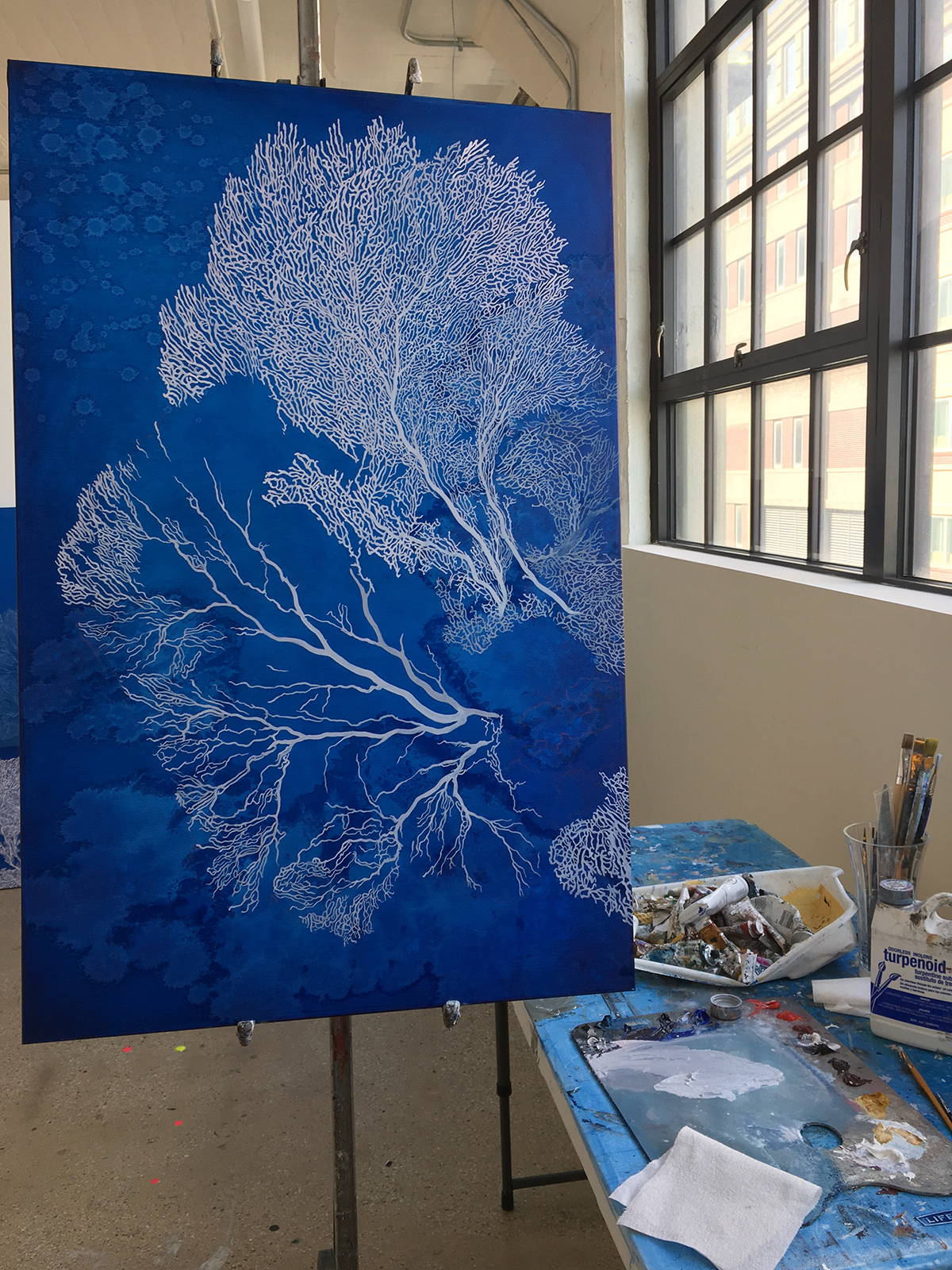 Describe the place where you create art.
My studio is at Trestle Art Space in Industry City, Brooklyn, and I just love the atmosphere there – it's an industrial building with huge windows, and the light is even and bright, allowing me to fine-tune the most subtle color combinations.
For me, it's very important to have a separate space to create because otherwise, I think I would never know when to stop painting! I paint until I get it out of my system. I have to know that I've said everything I had to say today by channeling it through my brush. Some days you feel like you have no clue, but these are essential for your growth. Once you think it's easy and you know what you're doing, it means that you hit a plateau.
What does creating feel like for you?
Almost everything we do in life is consuming, even if it's smart consumption like reading a book or watching a theater play. But when we create a new world out of a blank canvas, sprinkle blank pages with words, fill empty rooms with movement, or wake up the silence with music, we finally stop taking and give back. And this is my fundamental belief, that nothing makes humans as happy as giving.
Shop Nikolina Kovalenko's Prints