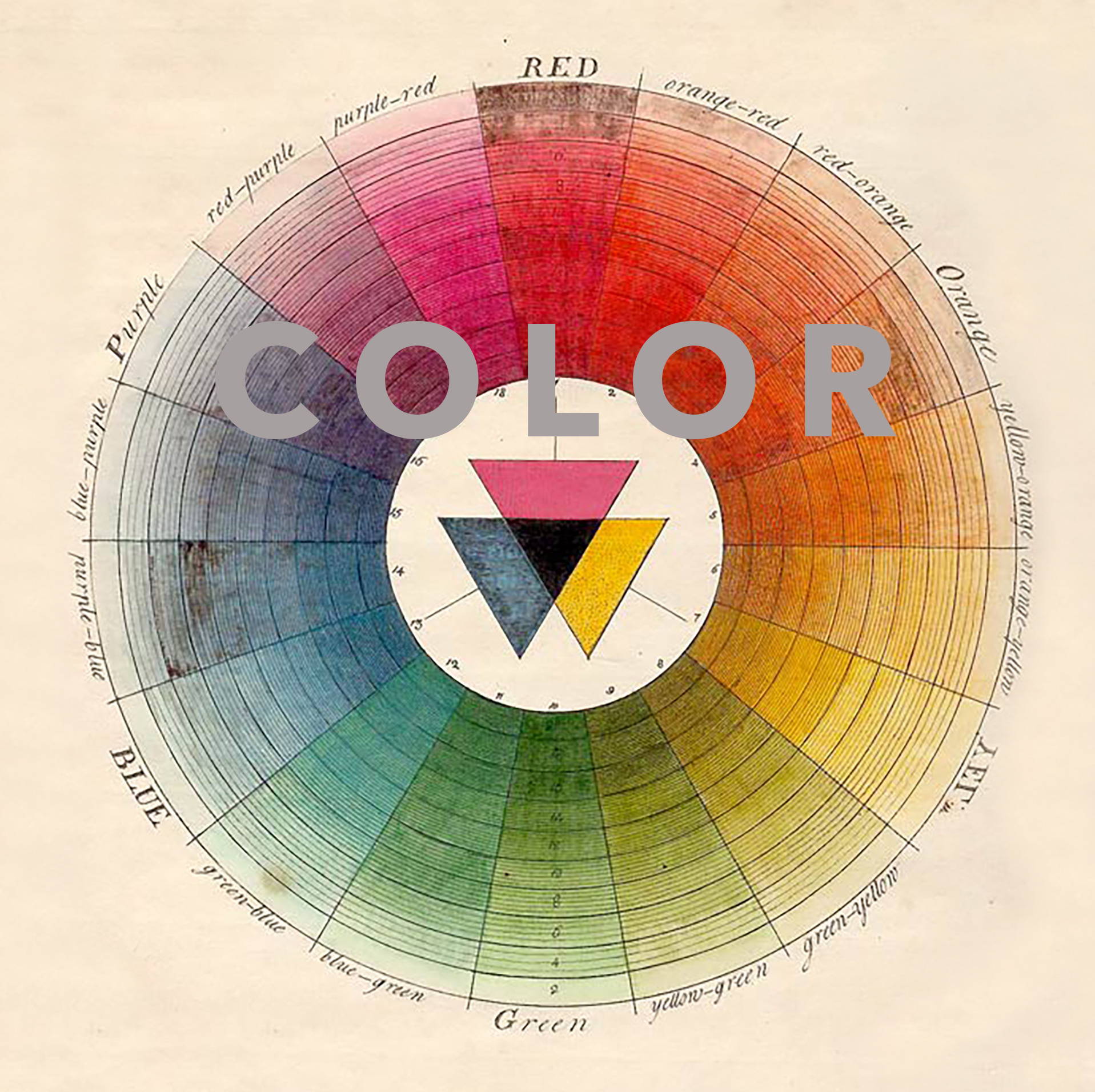 Digital sessions that further an Artist's application and development of color theory and practice
Color is an element of every artwork – intentional in its presence or its absence. Or, perhaps it is more a product of intuition or limited resources. In any case, it informs the effect of all visual mediums. Whether it is central to your concept as an artist or peripheral, it is worth exploring and understanding.
One of the unique things about color is its universality. The emotional effects of specific colors have been found to evoke similar responses across time, culture, and other points of diversity. Some of the first historical principles of color theory are still being used in curriculums today.
A great challenge of any work is how specific colors and combinations are perceived. By studying the vast science and history around color theory, an artist can understand how their choices create an array of reflections and emotional responses towards a specific work. The question of "what color will I use here?" has more weight than one might like to think about when freely creating. But with some understanding of technical color application and the emotional effects thereof, we can enrich our practice on an intuitive level.
Would you like to use color more intentionally? Do you struggle with all of the choices and nuances of the spectrum? Would you like to explore how it's used in your current work? Further your understanding of its basic principles to enrich your conceptual practice? Our Advisors synthesize historical and modern color principles, cultural context, and material application to work with artists and develop their use of color. Find below a list of Advisors across various mediums who specialize in the subject.
Assessment of your current understanding of color theory and application


Communicating with color using historical and modern theories and techniques
Insights into pigment attributes, paint formulation, the behavior of color mixtures, palette design and the principles of color harmony and dissonance
Identification of the relationship between individual colors and ideas or emotions specific to your work
Discussing your challenges and goals, and finding tools to meet them
Developing your custom palette through your intuitive and unique preferences
Chris Casio has a wide range of experience in the arts. A practicing artist and an art professor, he has the unique experience of existing in two distinct realms, that is, a grassroots community-based environment, as well as a more institutional setting. Having been in art school in one capacity or another for his whole adult life, he is well versed in the exchange of critique.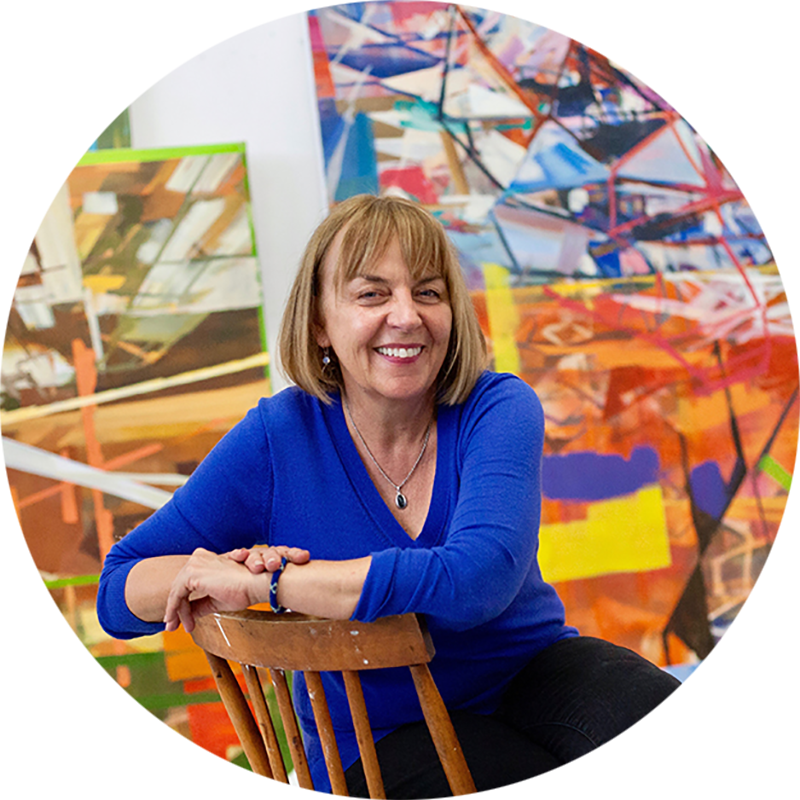 With 34 years of university-level teaching and her painting practice, Marie Thibeault has been immersed in every facet of fine art. She has extensive experience critiquing all levels of undergraduate and graduate-level students as well we extended education individuals with less formal background training. Her strengths lie in articulating abstract concepts, critically evaluating artworks, brainstorming visual processes, and developing the individual voice. Over the years, she has amassed a library of resources on contemporary painting and color theory. Her intuitive, perceptive engagement with art-making is accompanied by lightness and humor.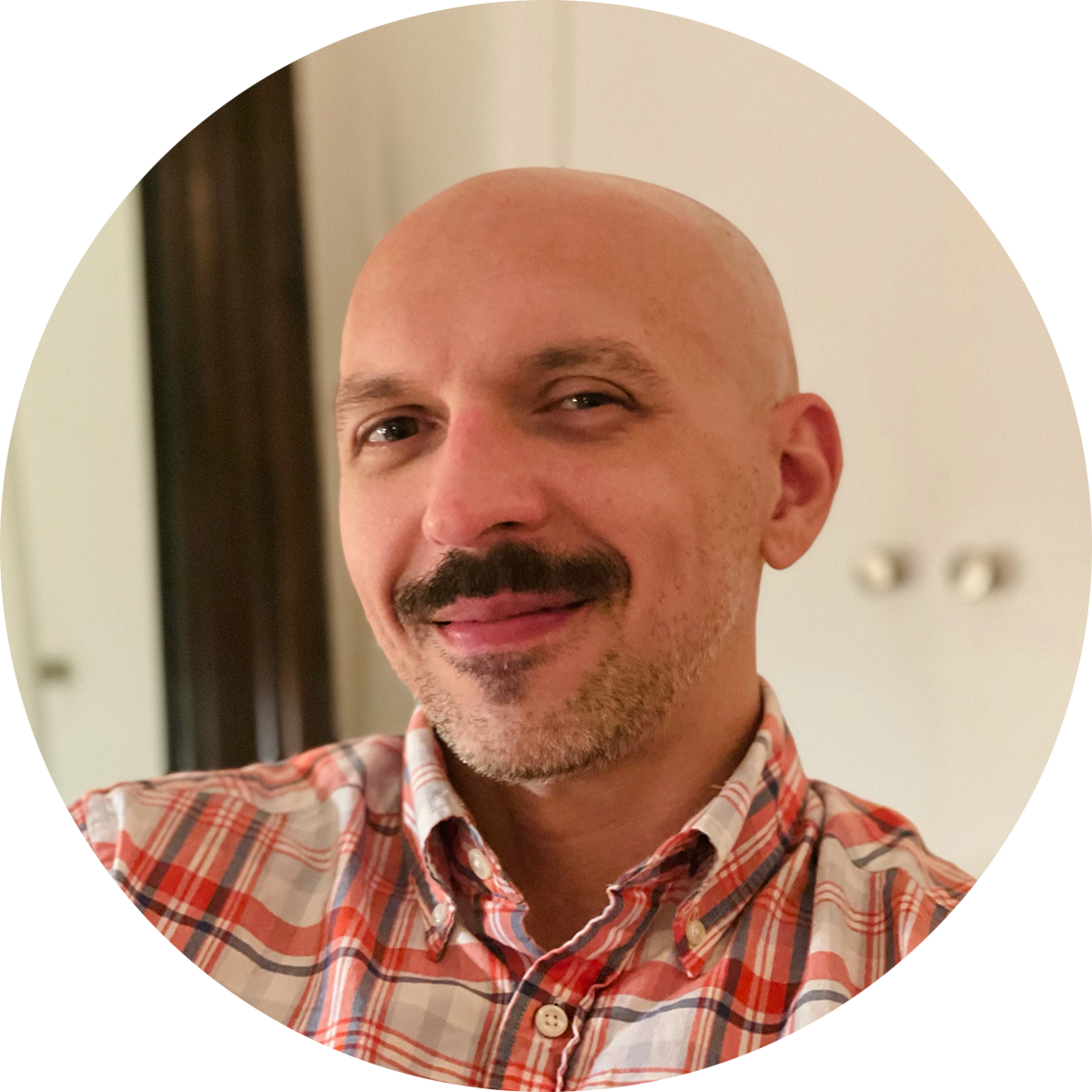 Artist, educator, and curator Eric Hibit has years of experience with art making and contemporary art discourse. As Co-Director of the non-profit gallery Ortega y Gasset Projects, Hibit regularly collaborates with and advises on the work of his peers. He is adept at in-studio processes, approaches, and techniques. His focused interest is in the use and application of color theory in fine art, which he teaches at The Cooper Union in New York. While his painting practice is centered around a specific set of principles, he is inspired by diverse approaches and other points of view
Book a session by Subject or browse Advisor listings to customize an experience based on your needs.
Upon booking, you will submit your material for review and complete a questionnaire.
Your submission will shape the session's focus, so we encourage you to be thorough! Your Advisor will review everything in advance.
Once the session is confirmed, you will receive an email with a Zoom video link for your scheduled time.
You should walk away from your session with valuable feedback. Book additional sessions with your Advisor, who can be a consistent resource for your creative growth.
What are One-on-Ones?
One-on-Ones are one-hour sessions with an Advisor over video conference that focus on the development of a specific work, a body of work, or practice. Topics can range from concept, theory, marketing, logistics, or presentation, among others. The digital sessions are designed to inform your direction, gain valuable feedback, and build a relationship with a contemporary in your field.
Who are One-on-Ones for?
One-on-Ones are for artists and creatives at any stage in their career who seek feedback about their work and practice. We aim to make peer review and critique accessible by offering this online platform in addition to traditional institutional settings. No matter what stage in life and work, personalized guidance can give you the confidence for creative growth and innovation.

Who are your Advisors?
We are continually building a team of experienced Advisors from around the globe who are inspired by growth, passionate about sharing the creative process, and well-versed in critique, academia, art practice, and technique and theory. Our roster invites artists to talk with someone in a similar or complementary field.
What material do I need to submit to book a session?
To book a session, you will be prompted to upload the material you would like reviewed and fill out a form with the following questions:
– Please describe the reason for your session and what you hope to achieve. What would you like the focus to be?
– Has your work been critiqued before? Please describe.
– What is your educational background?
– Any additional concerns or topics you would like to address?
Your Advisor will review this form in advance of your session. Ensure the material you are submitting is relevant to your chosen subject. The more you include, the more equipped they will be to provide effective feedback. If this form cannot accommodate your submission, please email the material to info@otravox.com.
What if the Advisor I want has no openings?
Each Advisor is available for a limited term and a limited number of sessions – see their listing for availability. If there are no available times for the particular Advisor you would like to work with, please send a request to info@otravox.com, and we will put you on the waitlist.
Do I need a Zoom account to participate?
Nope! Otra Vox hosts the account you will be using. However, you should download the App in advance as we do not use any other forms of video conference.
How far in advance can I book a session?
Every Advisor sets their schedule – please see their calendar for availability. You cannot make an appointment any sooner than 48 hours in advance so the Advisor has time to review your submission.
What happens after I book a session?
After you book a session, you will receive a confirmation email with a Zoom link, as will your Advisor. At this point, you have submitted your material and payment, and no further action is required until your session. Please check your spam if you are not receiving these emails.
Will I receive a reminder about the appointment?
Yes! You will get an email reminder with the video link again 24 hours before your session.
Can I book a two-hour session?
You cannot book a two-hour session through the scheduling system, but please write info@otravox.com, and we'd be happy to arrange that for you.
What happens if I have a poor internet connection?
You are responsible for ensuring you have a stable internet connection as we cannot refund you for lost time due to a bad connection.
What happens if the Advisor is late to a session?
If the Advisor is late, the hour starts when the Advisor arrives. Please allow some time after a session for these exceptions.
What happens if a session runs over?
An hour can go by fast! The Advisor is responsible for monitoring the time, so if it runs over, it is at the discretion of the Advisor. That said, please be mindful of the time as well so you can prioritize your talking points.
How do I reschedule an appointment?
If you need to reschedule a session, you must do so at least 48 hours in advance of your original booking in order to credit your fee toward a new session. If you reschedule a session with less than 48 hours notice, then your original session fee will be forfeited and a new session fee will be due to reserve a new time. You can reschedule a maximum of two times at the link in the initial confirmation email.
Can an Advisor reschedule a session?
We encourage our Advisors to be realistic with their availability so this should not happen, but in the event of an exception, we will coordinate a new time that works for both parties via email.
What happens if I am late to or miss a session?
If you are late for a session, you lose that time. We suggest signing in five minutes before the start time. Unfortunately, we can not refund you your session fee if you miss a session entirely without rescheduling.
Can I get a refund?
Unfortunately, we cannot refund sessions that were canceled less than 48 hours from the appointment, if you missed your appointment, or if you've already had it.
What happens if I am disappointed with my session?
Our Advisors are vetted and have experience in critical review, but we acknowledge that this type of conversation is subjective. We hope that these sessions are inspiring and fruitful for you. In the event they are not, we want to know! Please write to us at info@otravox.com.
What happens after a session?
After the session, we may ask for your feedback about your experience. If you would like to meet with your Advisor again, please check their calendar for availability.
How can I get in touch with my Advisor?
We are not permitted to issue Advisor's contact information. You can only get that information directly from and at the discretion of the Advisor.
Is my information protected?
Absolutely. We are committed to protecting your personal information and intellectual property. Any sensitive information submitted is for billing purposes only. In regards to your submission, the Advisors agree to our terms of confidentiality. As artists themselves, they understand the sensitivity and importance of intellectual property protocol.
Please see the TERMS & CONDITIONS for more information or send any additional questions to info@otravox.com. We hope you enjoy your session!