Una Ursprung wanted to pick a name for herself that was easy to remember and fit with her inherited last name. Ursprung means origin in German, while Una means one in Latin. "This name also symbolizes for me a new stage in my life, a new beginning in a new country." The Taiwan-born artist's biography is punctuated by new stages, namely, prolific periods of creativity sparked by moves to the Swiss countryside and France.
What did your education Ecole Européenne Supérieure d'Art de Bretagne site Quimper teach you?
It's been more than ten years since I studied there! Time flies! But it was really the most important time in my student life. Under the guidance of my professors, I learned how to construct ideas into works, do research, make a series of works complete, write a creative statement, and plan an exhibition. But most importantly, I learned to regain my confidence and to believe that I could be an artist.
Of all places, what drew you to Switzerland?
Because my husband is Swiss, and he lived in Switzerland at the time. After we decided to get married, I moved from Taiwan to Switzerland. So, I think I can say that love drew me to Switzerland. After living in Switzerland for three years, we moved to France, near Basel, on the German-Swiss-French border.
Living in Switzerland and France is a similar experience for me, as I live (My studio and home are together) close to a forest, Nature is like an extension of home. This allows me to really feel the rhythm of nature, to live in the moment, to feel like I am really part of this nature. The content of my paintings has changed from the imaginary forests I used to depict to realistic landscapes. My paintings began to follow the seasons and climate. My paintings are inspired by observing and feeling the plants and landscapes I see in my life.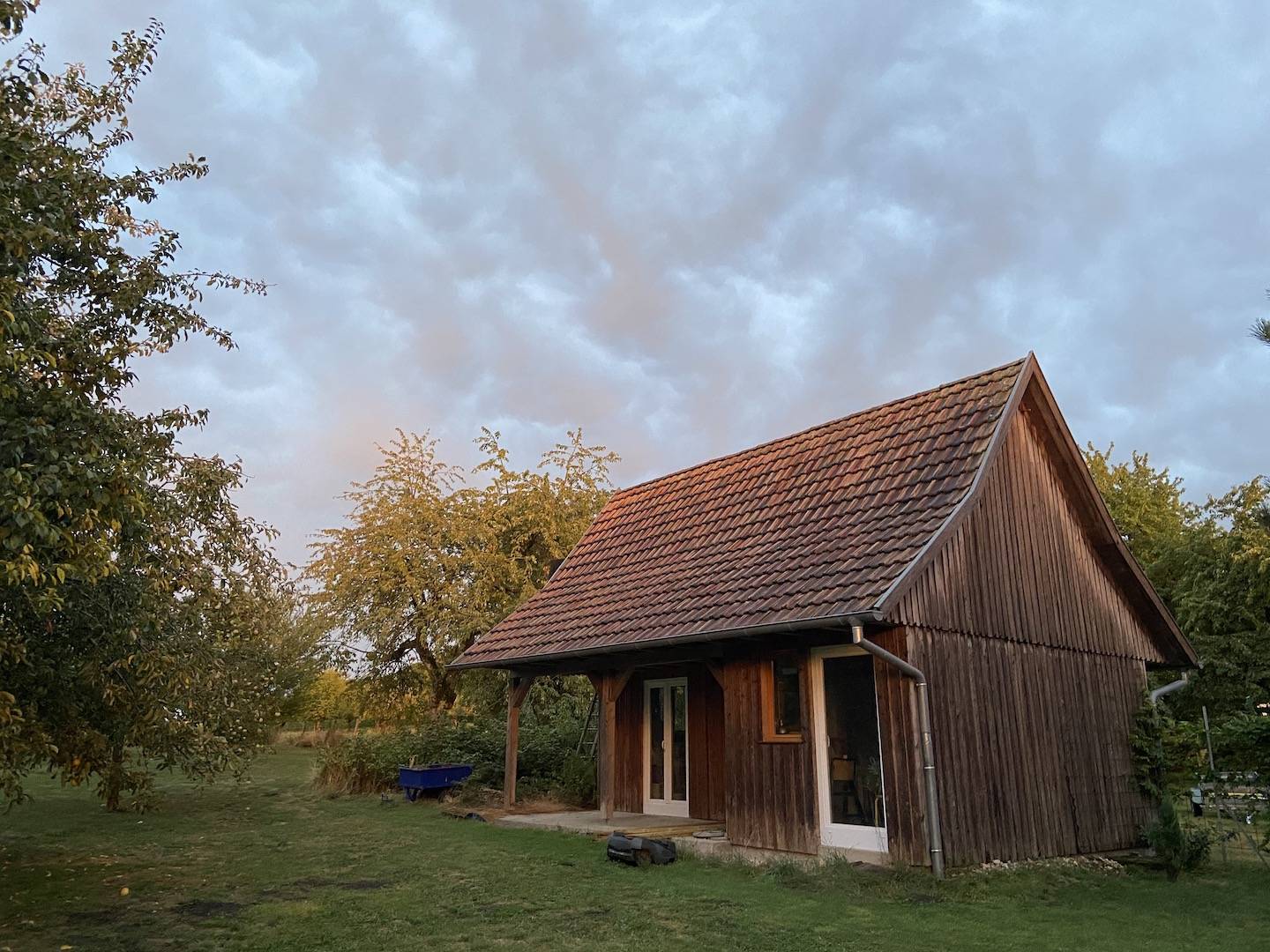 You create landscapes, primarily. What is the fascination?
Before I went to school, I spent my early childhood with my grandparents in a small village in the mountains of central Taiwan. It was a life very close to nature and simplicity. After starting school, I moved to Taipei to join my parents. However, the experience of living in the countryside seems to have planted roots in my heart. I think I connect the idea of home with the forest, nature, and a sense of belonging together. I feel more comfortable in nature than in the city because I really enjoy observing the elements, even the smallest leaf. Everything in nature is so beautiful to me.
What is the intention in abstracting them?
The act of using spray paint on my oil paintings can be divided into several different intentions. My spray paint can be wind, rain, the traces of insects passing by, the floating of pollen, or lights, which I want to capture floating in the air. In addition, I intend to show the movement of my body – gestures and postures when I paint through spray paint. Of course, the larger size works are better to show this part of my intention.
The spray paint also represents the intervention of the human being in the ecosystem. Since we are used to seeing the spray on in the city, not in nature, I tried to use the oil painting as a symbol of nature, and the spray as a symbol of human civilization. My goal was to create a conflict between these two worlds but somehow the result is a balanced harmony. I tried to find a balance between oil painting and spray on my canvas, just like we people need to find the perfect balance with our environment.
Are there any particular artists you draw inspiration from? Movements?
I have recently fallen in love with the paintings of Félix Vallotton. I am fascinated by his landscapes with their deep color tones. The forests he paints have a very special mysterious feeling, which inspires me a lot.
"...the experience of living in the countryside seems to have planted roots in my heart."
What is your studio/ workspace like?
My studio is a cabin of about 28 meters square, the space is like an "L'' shape. It faces my backyard, and I can see my fruit trees through the windows. (How does the location and environment around your studio inspire your work?)
Do you create spontaneously or regimentally?
I try to make my working hours as regular as possible. Usually, every afternoon during the week is my work time. But I don't plan too much when I paint. I usually decide what I want to paint rather intuitively because sudden ideas always disrupt my plans.
Discover more at unaursprung.com
Shop Una Ursprung's Prints